Steal from high-security buildings! In Bob the Robber, you are challenged to complete daring criminal missions. You must learn how to sneak past smart guards, pick locks, and break open safes. Walk out undetected to keep all of the loot!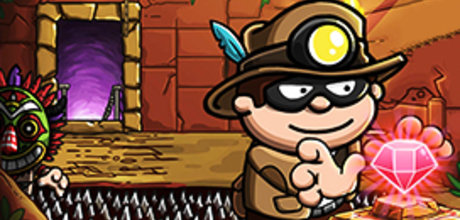 Get sneaky with our amazing Bob the Robber games
Grab your mask, flashlight, and lockpicks and be prepared to pull off great heists with amazing games in the Bob the Robber series. Move in the shadows and become invisible as you trespass in different locations filled with guards and security cameras that protect hidden treasures. Walk on tip-toes, push buttons, pull levers, and open secret doors to reach the treasures safely. Can you slip through the doors without being noticed by the guards and triggering the alarms?
Collect treasures in every edition of the Bob the Robber series!
You will face different challenges in each game in our collection of Bob the Robber games. Patrolling guards, laser sensors, and security cameras are just a few of the many obstacles you have to overcome to complete each level. Travel to different places, from simple houses to hidden labs, to steal everything in them. Bob the burglar made his career choice during his childhood years! Discover how and why he decided to become a thief in the first game of this addictive series, Bob the Robber 1. Being a thief doesn't mean Bob won't help others. Put his unmatched thieving skills to action in the second game, Bob the Robber 2 and save the city from the bad guys! No matter where you go, don't forget to take your trusted lockpicks with you. Turn the lights off and start the heist!